Grand Rapidians are as hardy as they are hungry – so local restaurants and breweries knew we'd show up to drink and dine outdoors in the dead of winter, even if we had to wear a coat and hat. Join us outside on heated porches, patios, decks and greenhouse-like domes and structures to enjoy some socially distanced food and drink … and if you're lucky, some magical snowfall views.
Outdoor spaces may require advance reservations. Always check a restaurant's website before you go.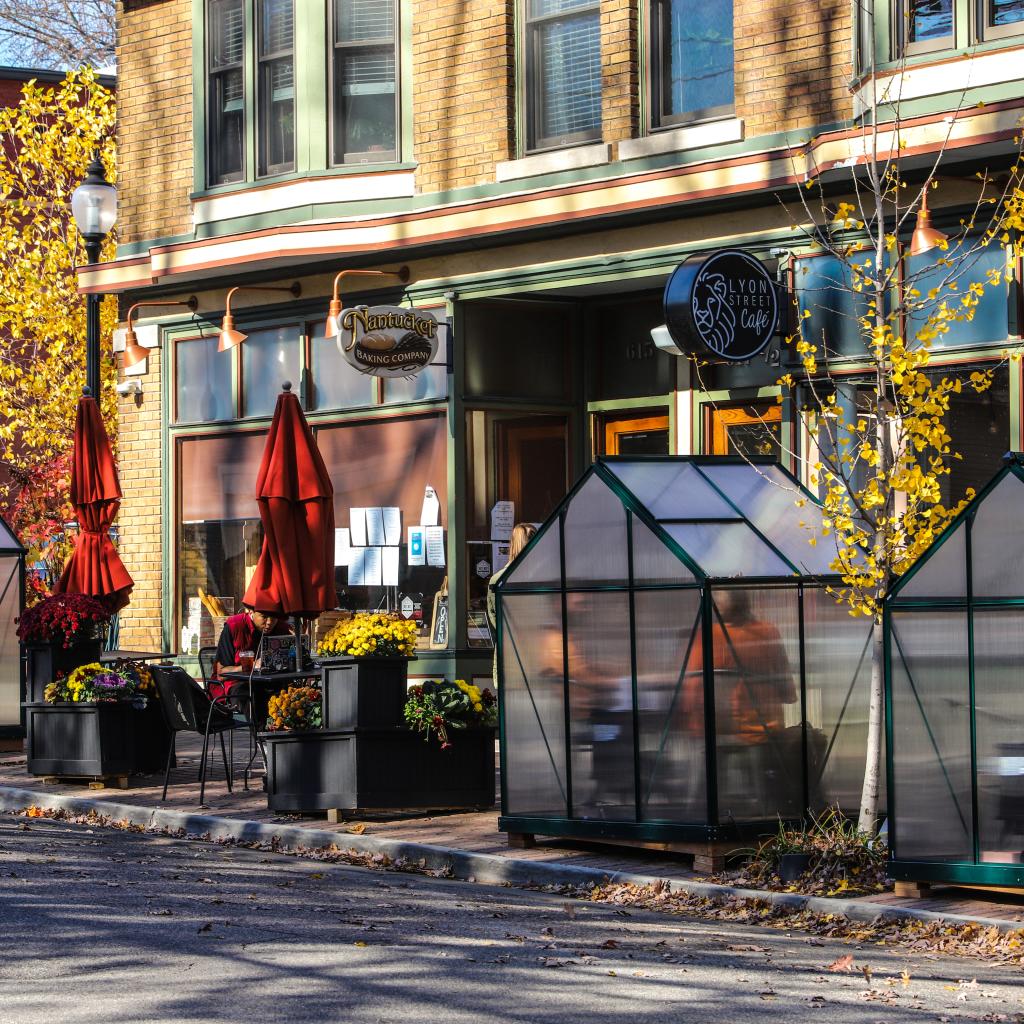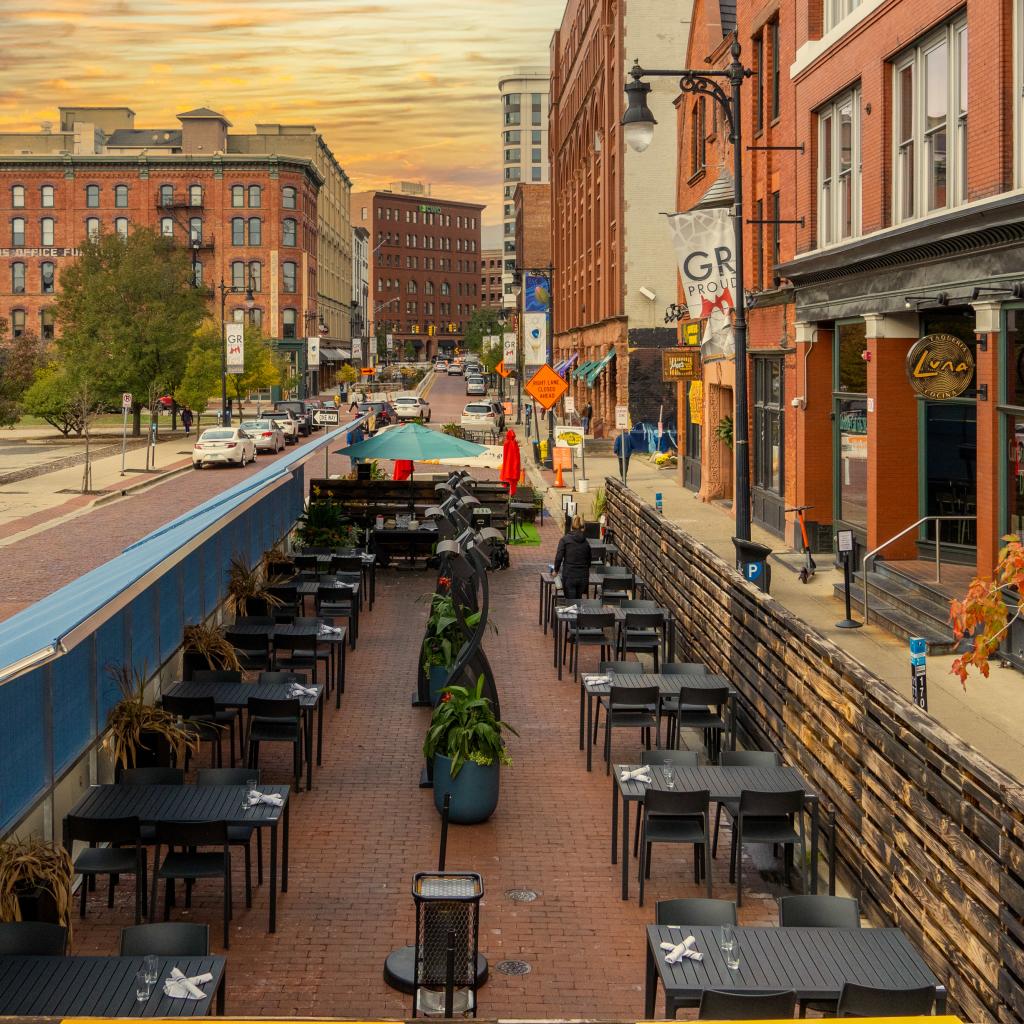 Outdoor dining with heaters and private enclosures options.
Photo Credit: Experience Grand Rapids
---
Downtown
Six outdoor urban domes each accommodate up to six people from your household for limited-service – it's drinks and grub in a bubble!
Custom domed and heated enclosures outside the front door of this downtown wine and charcuterie bar offer one-of-a-kind private dining experiences.
The heated, enclosed patio at this Medical Mile-neighborhood pub is equipped with a hospital-grade HEPA filter to circulate fresh air around the space.
Located in downtown's Heartside Social Zone, this award-winning Mexican restaurant has installed large heaters to warm guests on its enclosed patio.
Enjoy al fresco winter dining in the private greenhouses outside this Heritage Hill eatery, which specializes in high-quality beverages, sandwiches and baked goods.
This New American tavern at downtown's studio park features multiple patio heaters. COMING SOON: a heated tent on its outdoor patio.
Grab a table on the heated patio at this downtown eatery to partake of cheese, charcuterie, locally sourced dinner entrées and an exceptional wine list.
Coffee, tea, pastries, desserts, light bites and more can be taken out on the heated patio at this popular gathering spot. This location features heated sidewalks and outdoor heaters.
The eclectic New American menu at this casual Medical Mile restaurant and pub can be enjoyed on the heated outdoor patio.
COMING SOON. Located in downtown's Hyatt Place Hotel, this Southern-themed restaurant and bar has equipped its outdoor space with heaters for the winter.
This pizzeria and sports lounge has installed heaters on its spacious open patio in the heart of downtown.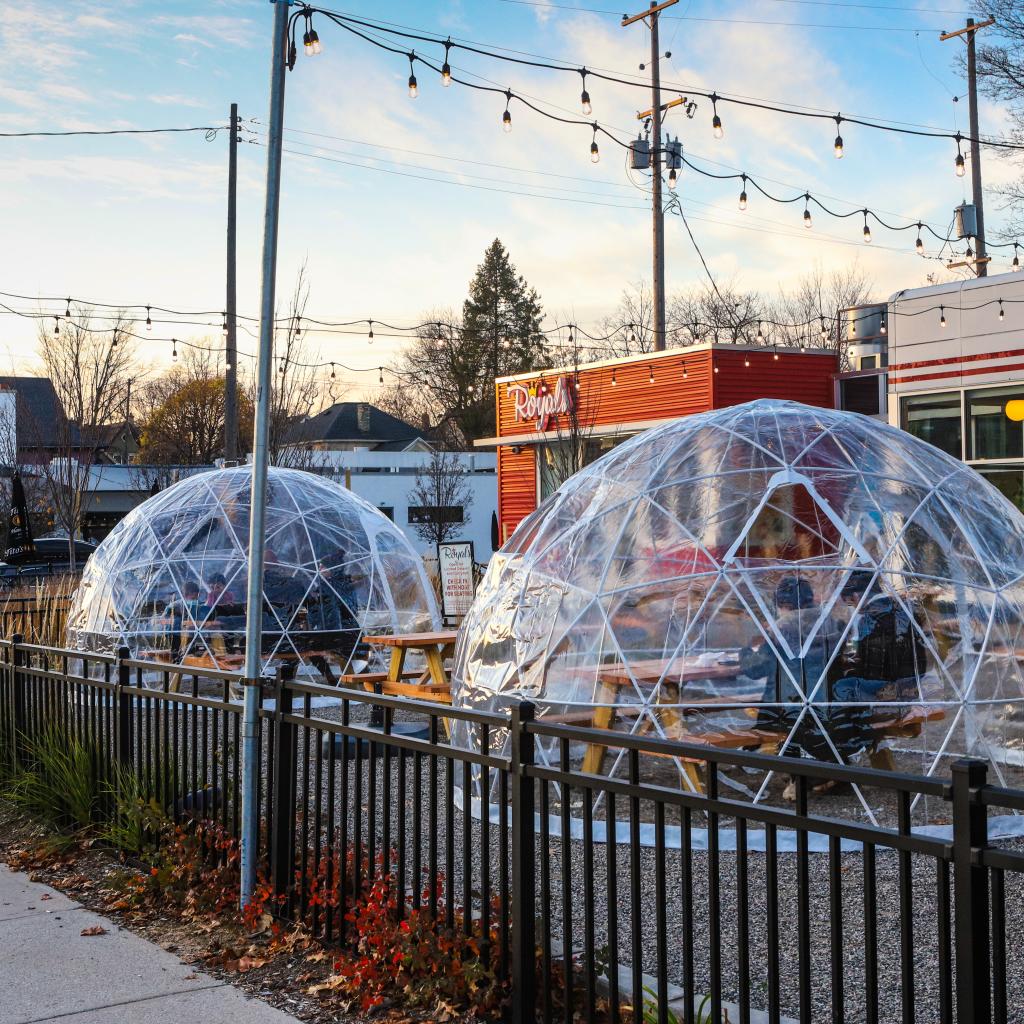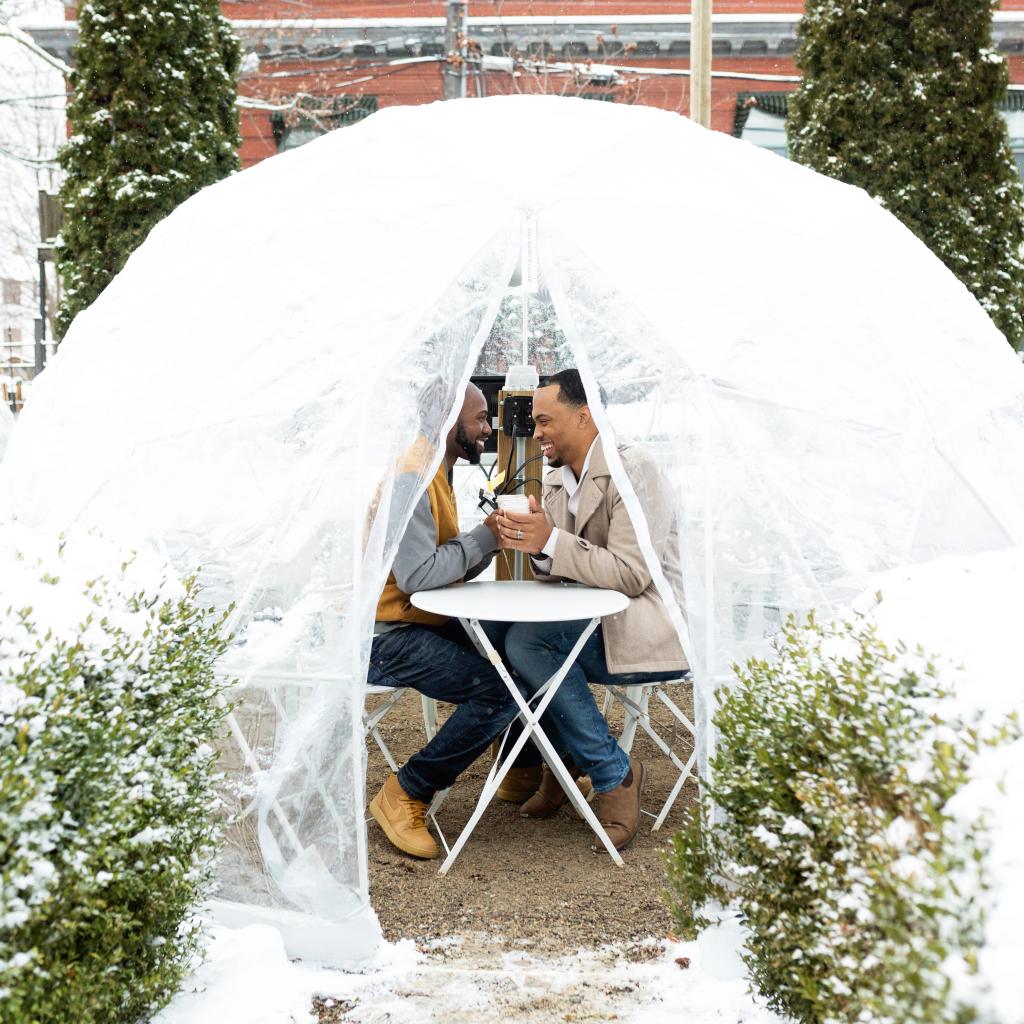 Domes are the perfect options for a private winter experience.
Photo Credit: Experience Grand Rapids
---
Uptown
Enjoy Michigan farmhouse ales and creative food dishes in the heated beer garden outside this destination brewery in Uptown.  
The heated open patio at this rustic-industrial brewpub in Uptown is a perfect spot to enjoy a pint or a flight … and you can bring in your own food (or have it delivered)!
This one-of-a-kind Mexican street food concept offers heated outdoor domes for contact-free dining – up to six people per dome.
The new covered patio at this creative, eclectic Uptown restaurant features socially distanced tables and powerful heaters.
The Uptown location of this award-winning local coffee shop has added heaters to its outdoor dining space (as if the hot coffee wasn't warming enough).
Uptown's community-based coffee shop adds two private domes to its outdoor garden this winter. Reservations required to allow deep cleaning between seatings.
The spacious lawn of this Uptown mansion-turned-restaurant offers small gathering areas equipped with chairs, heaters and fire pits. The outdoor patio has heaters, too.
Outdoor private greenhouses provide a cozy spot to enjoy a delectable assortment of fresh-vegan and gluten-free baked goods plus amazing coffee drinks.
This Uptown-neighborhood diner has installed six-person domes on its patio – heaters included! Domes undergo electrostatic cleaning between each seating. Reservations required.
Uptown's newest destination for handcrafted beer, wine, hard seltzer and cider has outfitted its patio space with heaters and a fire pit.
It's a "Winnie wonderland" outside this popular Uptown restaurant and pub, with three domes accommodating up to six people each for a contact-free dining experience.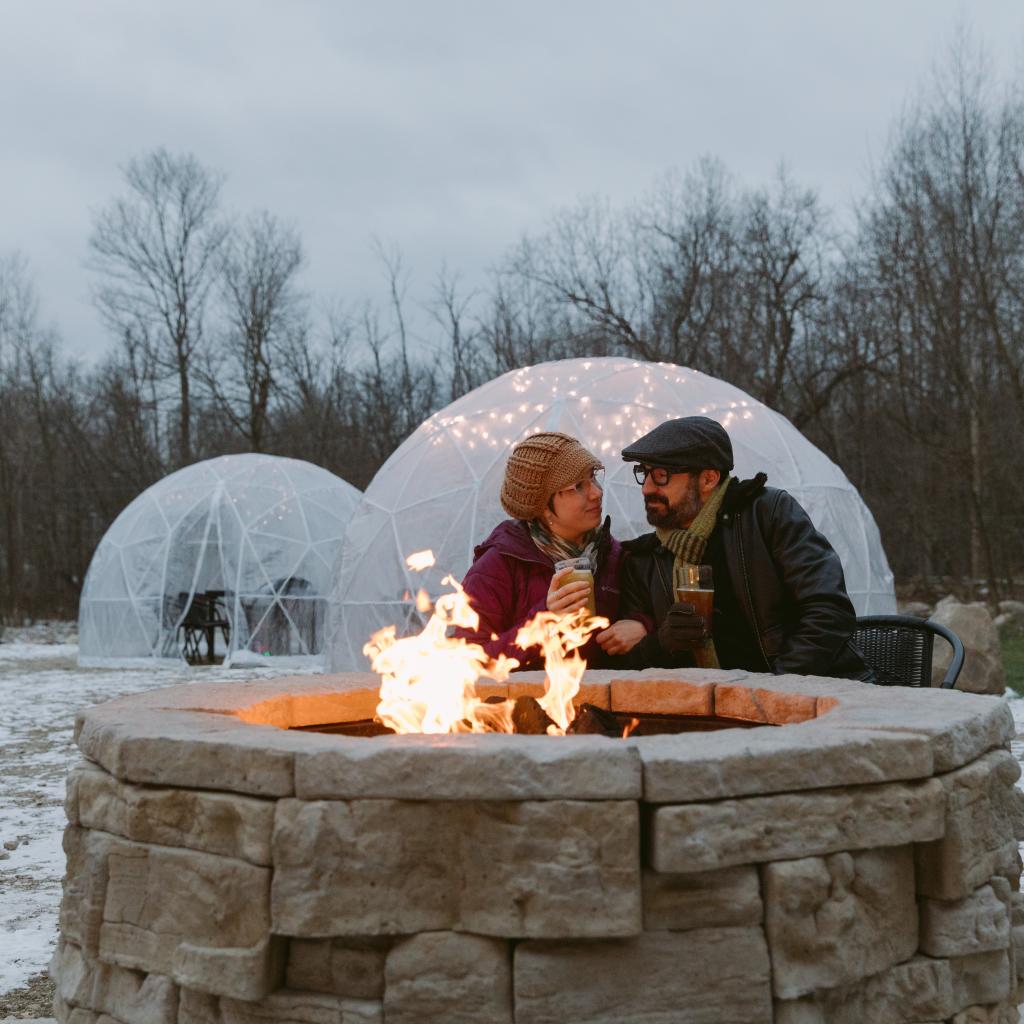 Fire pits, domes and heaters, oh my! Cozy up at Third Nature Brewing Company.
Photo Credit: Experience Grand Rapids
---
Northeast
This northeast-side favorite is adding shelter and heaters to its outdoor space to keep fans of its micro-batch beer, wine, spirits and food warm and satisfied!  
Enjoy the food and the view from the enclosed patio at this lakeside eatery near Rockford. Massive heaters keep you warm and comfortable.
Enjoy handcrafted brews and fresh-made food on the heated patio at this northeast-side favorite.
The outdoor biergarten at this Rockford brewery is equipped with heaters, fire pits and private enclosures for up to six (domes coming soon.) 
Enjoy hard ciders, apple wines and a handcrafted menu featuring local products beside a fire pit on the outdoor patio of this northeast-side favorite.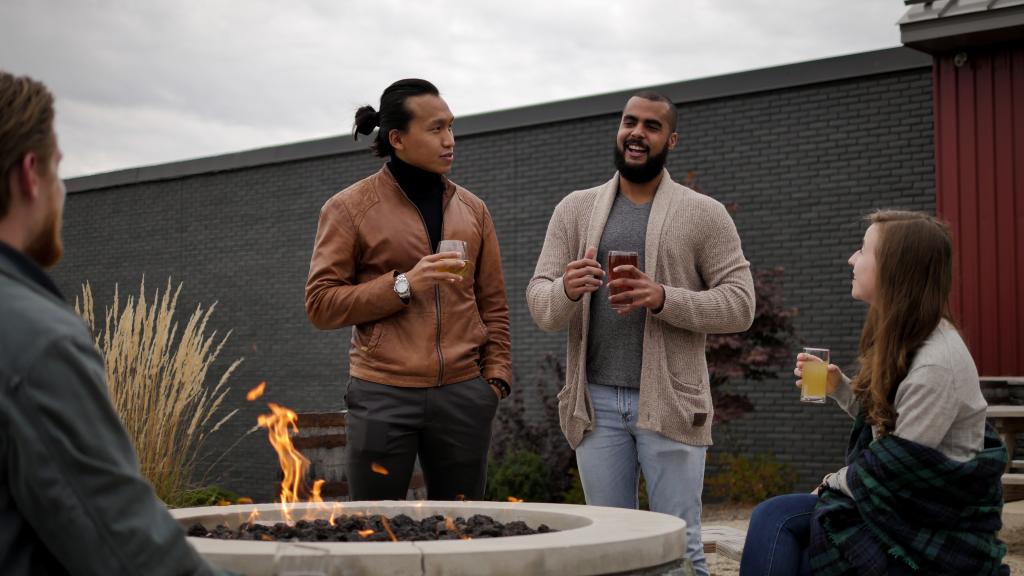 Vander Mill cider and patio
Photo Credit: Experience Grand Rapids
---
Northwest
Located just a few miles southwest of Grand Rapids, this Allendale microbrewery serves handcrafted beer, cider and seltzer on its open, heated patio.
Southeast
This small-batch Alger Heights brewery: safe, comfortable, weatherproof outdoor dining. Reserve shanties right outside. 4 people max. 2 people min.
Savor the flavor of comforting entrees and handcrafted drinks on the heated patio of this southeast-side favorite.
Enclosed tent ,private domes on the patio of this southeast-side eatery seat up to six people from your household for crave-able family cuisine and craft beverages.
The wraparound covered porch at this popular Ada dining destination is warmed with heaters in winter.
This brewery also has cocktails to-go and a dome you can reserve up to an hour. More domes to come. Call to reserve. 
Enjoy a vast selection of Italian favorites on the outdoor heated patio at this southeast pizzeria and sports lounge.
Southwest
Enjoy an evening sipping delicious ciders under the stars in a heated dome at this southwest-side cidery. Online reservations required and guests must be 21+ only.
West Side
This West Side brewery has erected a heated tent (including only one side wall) in its outdoor space for lovers of its fresh, small-batch ales. Guests can order in/bring their own food from local restaurants.
Temporarily Closed Through December 8
Effective November 18, the Michigan Department of Health and Human Services has issued Pause to Save Lives, a three-week set of rules to combat the further spread of COVID-19. The locations listed below have winterized spaces but are closed through December 8. 
The upscale rooftop beer garden atop downtown's Canopy by Hilton hotel is equipped with heaters to stay open as long as customers want to use it. Closed through December 8.
This Bridge Street crowd-pleaser serves up its quality spirits and American regional food specialties in the "greenhouse" – an outdoor patio that is enclosed and heated for the winter. Closed through December 8.
Fire pits on the semi-enclosed patio area of this Bridge Street brewery keep patrons warm and toasty. Reservations required. Closed through December 8.
The Wintergarten at this northeast brauhaus and restaurant is heated and fully enclosed – but the structure "breathes" to circulate air between outside and in. Eight massive heaters keep the space warm for socially distanced live music and trivia, too. Patio closed through December 8.
Never miss a post!
Subscribe to the Insider Experience blog.